Proudly Providing Irondequoit NY with Ambulance Transport
and Emergency Care Since 1982
At Irondequoit Ambulance, we're more than just ambulance drivers.
Our team of extensively trained medical and pre-hospital care specialists can do almost everything an emergency room can do within the first 20 minutes.
Irondequoit Ambulance is a 501(c)(3) not-for-profit ambulance agency located in and serving the needs of Irondequoit NY. We staff extensively trained EMTs and paramedics who work around the clock, offering responsive 24/7 service 365 days per year. Learn more about our services and programs below…
Is my child AS SAFE AS POSSIBLE in the car?
Is your child in the right car seat?
How to choose the right car seat?
Let us help you make sure your child safety seats are installed properly in your vehicle.
Our team of skilled EMTs and Paramedics provide expert, rapid-response Basic and Advanced Life Support ambulance services and pre-hospital ER treatment.
Looking for a fun and rewarding way to be hero in times of need? Learn more about our upcoming BLS CPR training courses at our Irondequoit NY location.
Areas We Serve
While we primarily serve areas covered by Ridge Culver, Laurelton and Point Pleasant Fire Departments, we also support the needs of many towns throughout Rochester.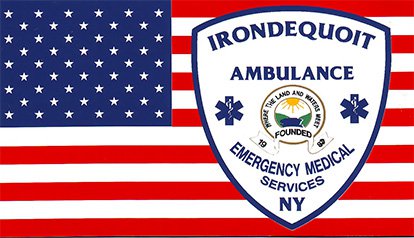 Irondequoit Ambulance… Always There, Always Ready
For over 40 years, the ambulance and medical specialists at Irondequoit Ambulance, Inc. have been working tirelessly to help save lives throughout our local and surrounding communities. Since first opening our doors in 1982, we've consistently strive to improve the quality and responsiveness of the emergency medical services we provide, which includes making substantial investments in vehicles, medical equipment, communications and the most talented team of EMT's and Paramedics. Our headquarters is located at 2230 Norton Street in Irondequoit, where we operate 24 hours-a-day, each and every day of the year.